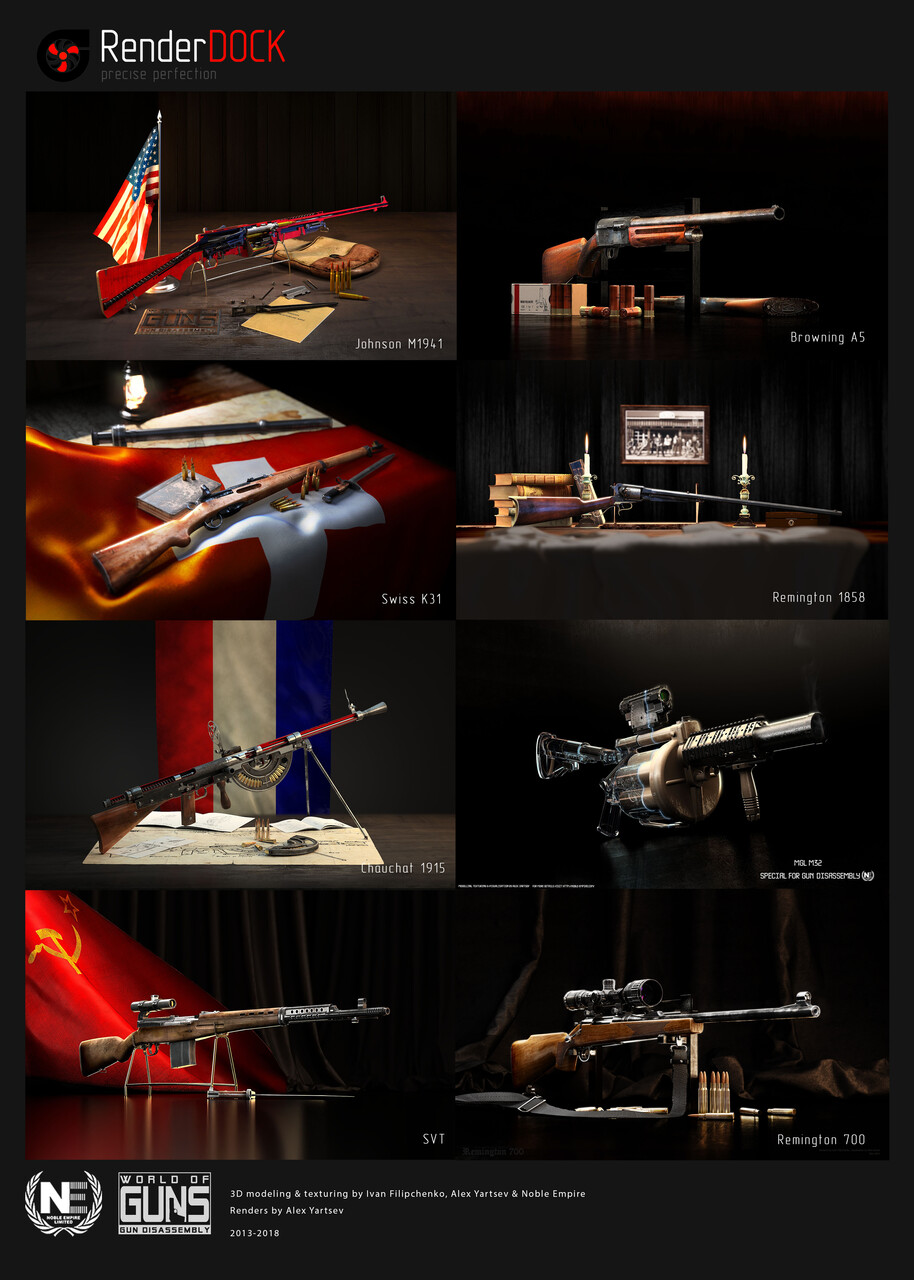 Alex Yartsev, RenderDock CEO LinkedIn
3d artist since 2007
   
   "Have been working on the World of Guns 3d library of firearms for a pretty long time. It was also called Guns Disassembly 2 at some point. For the first time I worked as an animator and integrator of ready-made models into the application engine. Later I found myself as project lead from the beginning of development to the final release of a gun. That allowed to gather invaluable experience in blueprints & references collection, 3D modeling, UV, animation, texturing, product cover renderings.
   I always tried to make each next model better than the previous one in order to get rid of the routine. A landmark model in this regard for me and the project as a whole was the AK-47, released in 2013. In terms of elaboration of details this model was an order of magnitude higher than anything that was in the World of Guns library before, even despite the old 3D engine limitations. Although there are certain inaccuracies in the model (caused by some inexperience at that time) they were corrected in subsequent models of the AK series. Subsequently the Ak-74 with the PSO-1 sight and the GP-25 launcher, AKS-74U, RPK-74M, PP-19 Bizon, VSS Vintorez, AS VAL, GSh-18 pistol were reeleaced with an accuracy that made it possible to print a prefabricated functioning model on a 3d printer. And much more.

   Since 2015, Ivan Filipchenko (future RenderDock co-founder) joined the project and the library of the weapon models we created began to grow rapidly.
   Naturally, we gladly accepted the offer from David Rosen to work with Wolfire Games on their Receiver game sequel. In addition to the fact we supposed to do what we know best, this work assumed a transition to a qualitatively new level of photorealistic PBR modeling and texturing that was new for us at that point.
   I was asked how many models of weapons we have made in recent years from time to time. I myself was interested in answering this question accurately enough. So decided to make a list and close this question (for some time I guess).
   There are already 128 models on this list as of mid-2020. That we know to the cog. Most of them were done by me and Ivan Filipchenko. Some were created from start to finish (marked as F), some we just UV made, baked & textured (Tex)"