Recently I've made some internet surfing to gather some info about my MiG-41 design influence and this was very interesting. I've knew that my old renditions start to pop up in different news, topics & youtube channels since Russian aircraft corp (OAK) announced the real MiG-41 (PAK-DP) development.
    Surely my design has nothing to do with it. First of all cause its a light-weight fifth gen. fighter concept and not a hypersonic heavy MiG-31 replacement. But some people still argue if that is real or not and some thematic resources illustrating future MiG-41 with my old and new renders :)
I've gathered some interesting links, as well as some fan-made projects about this design and will make a post about it soon.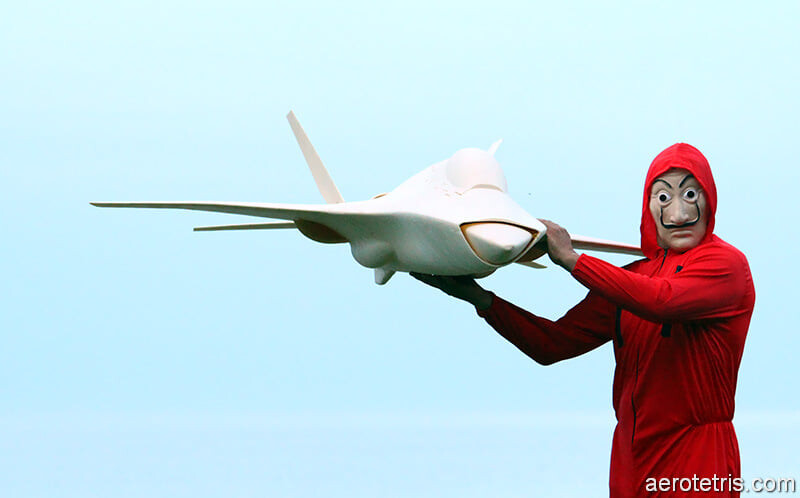 But today want to show you some pics of a RC model kit made by Aerotetris. The odd thing is that they sell it and I still didn't know about it :) Let's think they thought that I wasn't the initial author of Firefly design and made that based on some real Mikoyan project. It's ok with me but It would be much better if they send me one for free instead of royalty fee:)
The link: Aerotetris MiG-41S

Facebook page: https://www.facebook.com/aerotetris/?hc_ref=ARTorCmwitc-kNViv6FWeQT9fm4miG6XR-4xuzx4hUunbtohYPAkm9qOb0vGaOGWFw4&fref=nf&__tn__=kC-R  
   Original "blueprint" they use https://www.deviantart.com/renderdock/art/MiG-41-profile-187262027  Published: Nov 24, 2010  oh boy :) 
Btw they really manage to make it look very close to original. I guess the canopy shape looks even more  realystic. 
   Would be cool to see its painted in the sky